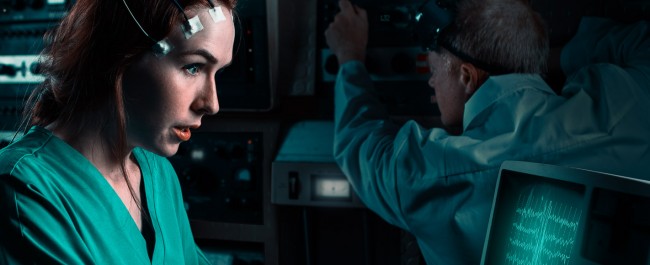 Over the past couple months, we've been getting such a fantastic response from our Kicklighter t-shirt promotion that we can't resist sharing some of our favorite reviews. This one arrived courtesy of Dr. Jeff Kersh, a talented percussionist whose articles have appeared in Modern Drummer magazine.
Review: Kicklighter, The Fascinating Thinking Machine
Kicklighter is a fascinating project in theory, and even better in practice.  Everett Young's stated goal was to "create an album that literally could have been recorded in 1985, 1989, maybe 1991, and could have been one of the great records of its time, but was lost to time and only just now re-discovered in a vault somewhere."  A noble goal, seemingly impossible to reach, but he nails it.
Choosing a favorite song is difficult, but "Kid," by all rights, should be a massive hit.  In 1985, it could have been.  Most of these songs could have been.  I admit, getting the offer of a free t-shirt for listening was a great gimmick, but I now wear that shirt proudly.  This band is fantastic.
My first inclination was to think the album would be a cache of 80s clichés, all the things today's kids laugh at when they listen to "our music."  I'm thrilled to be wrong.  This is un-ironic "eighties music," avoiding the goofy synth/caveman electronic drums while getting to the heart of what made the music of my high school decade so effective.  The influences are definitely there, but they are wonderfully subtle.  I hear slivers of Tears for Fears, Crowded House, and a lot of Todd Rundgren.  But the influences don't overwhelm; this project is its own animal.
I am hardly a "nice reviewer"; thankfully, my review of Boston's Third Stage was pre-internet.  It made me sound like Lester Bangs on steroids (and, really, it was awful on so many levels).  I'm trying to find something negative about The Fascinating Thinking Machine, but I'm coming up short.  A few highlights:  The keyboards and guitars are deft and subtle, but incredibly effective.  Sam Owens' drumming is tight and restrained in a way I haven't heard in years.  The perfect accompaniment (and I'm a drummer/percussionist; his playing is nothing short of impressive).  The production is so clear and pristine, I'm still reeling; on one of many listenings, I cranked the volume, and nothing was lost.
If I have to find anything "wrong" with this album, it may have to be the song order.  I know nobody under 30 understands what an "album" is, but the idea is to have the songs in an order that builds.  Brad Lewis did a good job, mostly, but a few transitions are a bit awkward.  And really, I'm reaching to criticize anything, which is highly unusual for me.  Give me a Meghan Trainor "album," and I can outdo J.D. Considine's infamous review of the GTR album.  But I'll be right.  He was, and still is, an idiot.  He never met crap he doesn't love.
Overall, Kicklighter's The Fascinating Thinking Machine is, in the words of an old girlfriend who dumped me, "stellar."  She isn't likely to read this, but ha.  She was an embarrassing excuse for a human being.  But, the word is appropriate.  This album couldn't have been made in the 80s; the technology simply wasn't available.  But Everett Young has successfully blended an "old school mentality" with a true concern for quality and masterful use of contemporary technology to create a genuine artifact.  Anybody who loves music should listen to this and love it.
– Jeff Kersh
Thanks so much for the review, Jeff! It means a lot to us, and we will continue to read it over and over again.